Garage Monkey
Staff member
Joined

Mar 5, 2008
Messages

4,544
Location
I have finnaly finished the VetteMOD version of the Jeep steering gear conversion. I beleve this could be done for much less than the kits out there and this modification is stronger AND is a bolt on conversion. The only thing missing is the drawings for the modification to the Jeep gear. But, guess what? The drawings are available in the download section! Any machine shop could modify this box for less than $100.
The pitman arm used is the 73-76 Chevelle arm #7814221. Call a local salvage yard, I'm sure they can find one for you. This is also a bolt on.
I am also using the 3 original Vette mounting holes but using 7/16-20 x 5 1/2 inch long grade 8 bolts. These are available from any fastener supply or places like McMaster-Carr.
The only other thing you will need is (4) 12mm x 40mm long bolts to attach the plates to the Jeep gear and the plates that can be made from the drawing in our download section. Oh, and (4) 1/2 inch ID x 1/2 long spacers.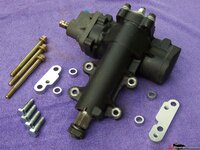 Pitman Arm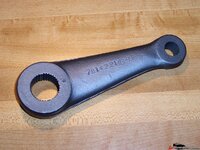 Assembly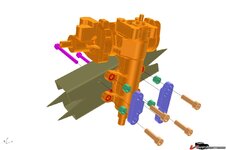 Machine Work on Jeep Gear