Joined

Sep 2, 2009
Messages

1,580
Location
Project Elvira – Intro and Update
The following pic is my cartoon work plan. Not so much a spreadsheet or PERT Chart, but a means to capture any method to my madness.
I have had plenty of spare time on my hands while still in physical therapy from my shunt at Sebring last Labor Day. I'll add a few details on that later.
My 1978 Corvette has followed a number of changes since new. With this major revision, I find it necessary to lay out a plan of sorts and settle on a direction – and help me keep my focus. I can't guarantee this will keep me from a few, "While-I'm-At-It", but maybe will keep my ordering of parts organized.
Some of the things I've wanted to work include; shifting the engine and transmission aft, raising the differential, lowering the car, dual wishbone IRS, numerous aero-mods, tilt-forward radiator, gull-wing doors, and a few other mad-ideas. As a result, the car will now only compete in SCCA Special Production - Over (engine size)/SPO, NASA Super Unlimited SU. This means Regional-Only Competition. But, I suppose as an A-Mod in Autocross that opens National - hah-Hah! But I have a number of tracks within a 5-8 hour tow/drive to get my fill of track time and empty the bank account.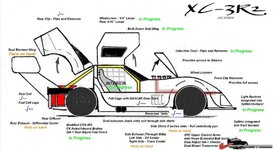 For each element of the effort, I'll start at the nose and work to the tail outlining any progress.
As an outline of my posts – I'll try and follow this order:
BODY WORK
MECHANICAL/Metal Work
SUSPENSION
INTERIOR
ENGINE
COOLING SYSTEMS
MISCELLANEOUS
SAFETY
PAINT AND FINISH – HAH!
TECH INSPECTION - When finished!!!​
I'll try and follow this maxim:

Cheers - Jim