Joined

Mar 25, 2008
Messages

2,731
Location
I've been thinking about this for a while...checked many reasons for and against for a non-turbo application....basically an inline pcv system filter. The main reason was some oil loss and detonation. Oil has no antiknock characteristics and I wanted to keep the pcv air flow (Ie...no crank case venting to the outside air).
Engine runs great...except for some pinging at excelleration at part throttle cruise when vacuum advance is fully deployed. I run 34mech at 3000rpm... 12 initial. The vacuum is another 15. When I retarded it to get rid of the pinging, I lost performance.
It loses about a pint of oil every 3k or so. Not bad at all....but where is it going. I run 10/30 full sythetic on a full roller BB engine. I don't have any signs of ring problems or oil pressure issues. I run the stock PVC recommended for a BB. Valve covers are baffled with drippers.
So I found a "universal" billet, dual chamber baffled catch can. Mainly designed for a turbo application. It wasn't cheap...but then again I wanted something that would do the best job, mount in a good place and look like it belongs. The best fit that I found was at an online
mustang
speed shop.
I ran it for 30 or so miles....both hard excelleration and cruise....no pinging...it has a lot of power, so any seat of the pants gains would be hard to feel. Could this finally solve the problem...we'll see after I put a lot more miles on it. Look at the oil in the can...shit, that was going into my intake! My pcv system is definitely sucking up oil.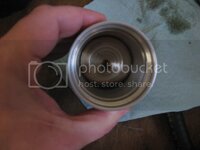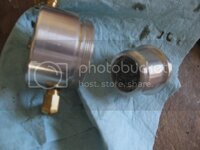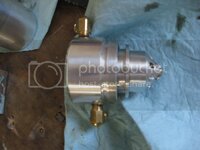 I fabbed up an aluminum mounting bracket. Mounts in the passenger side head with a spacer to move it back from the intake. The fan/air flow will keep the can cooler. Surface temp on the can was 140 degrees...cool enough.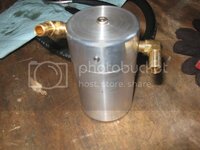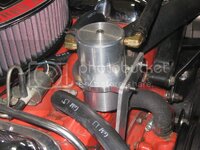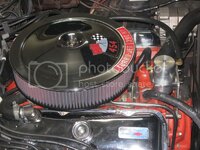 Last edited: