Charter Member, Founder Bird-Run, Cruise-In Bird-R
Joined

Mar 5, 2008
Messages

5,719
Location
If you read muy post on Scotts headlight modification, you know I added a 3rd relay. This is for the ignition.
On the old tach drive points systems, a resistor wire feeds the coil, limiting the current to 4 amps. Upon start up, a contact on the starter shunts this to provide a full 12 volts at start up. It also provides an easier hot restart.
WHEN you install a mini starter on a points ignition car, you LOSE this function. Here is the cure.
1) Run yourself a new keyed hot from the spare tab in the fuse box to a relay under the hood. Jump from this same point to one side of an external ballast resistor. Since most 8 cylinder coils are 1.5 ohms, use a bllast resistor of 1.5 ohms. This leaves you with a total of 3 ohms, giving the desired 4 amps at 12volts.
2)From the other side of this "shunt"relay, run a #16 wire to the other ballast resistor terminal, and from that same terminal to the + side of the coil. The - post is always the point side.
3)To activate the relay, run a #16 black to a known good ground, and the other side of the coil to the starter. Splice in to the purple coil wire there.
Now, when you turn on the key, the coil is fed via the ballast resistor.
When you are CRANKING the car, the relay pulls in, insuring full voltage to the coil for easier starting.
I will ask TT to autocad a drawing to post from my sketch.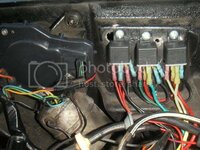 Shunt relay is on the left.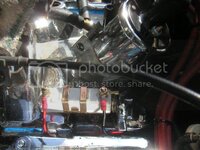 Ballast resistor.