Joined

Sep 2, 2009
Messages

1,578
Location
Just the kind of information I knew resided here!!
1. hopefully you already know you need to block the unused oil passage above the old oil pump mount, tap the rear main of put a plug in the block under the rear main.
CHECK! Accomplished.
2. your yellow "screen optional" should be screen filter IMPORTANT
CHECK! Arrived in yesterdays Big Brown Truck
3. oil cooler can be on pressure or scavenge, I ran it on the pressure in front of a remote with a paper filter. hoses to and from the tank -16, everything else (except for the valley scavenge) -12
COPY ALL - My Remote is the Peterson Remote + Primer
4. thats a long pump, sure it`s going to fit in front of the motor mount stantion? did you have Kevko (Kevin right? he worked on my oil pan) place your bungs far enough away from your headers and not in the middle? and finally you can scavenge out of the valley with a smaller (I used a -10) hose.
Will be fit-checking pump mount this weekend. Will take some mods I bet. Also need to sort out the pulleys too. Yep--Kevin @ Kevko. Easy to work with and inexpensive. Pan should arrive tomorrow along with a baffle plate.
Looks like will be a -10 through the (now) unused vacuum port on the intake manifold. Seen here: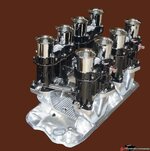 I'm starting to "waffle" on the Valley "breather/standpipes". I have a roller block (so roller lifters) and understand the valley drains can be closed off and not cause harm. But my Crew Chief reminded me we'd local drive to AX events, so might that be a concern? Or just put it on/in the box and tow anyway? Good thing I have all the smaller screens from that Milodon kit.
Thanks for the excellent advice! Very much appreciated.
Cheers - Jim