Joined

Mar 25, 2008
Messages

508
Location
I gave the '81 Vette to my son shortly before his 13th birthday (3/3/08).
But the goal is for him to do 80+% of the work while I sit on my ass and supervise.
If he sticks it out all the way to completion .......... the car is his.
Yesterday was our official starting day :thumbs: (y'all got this forum started just in time,)
But there is no time line on this project.
I'm having him dry strip the car with a DA (aka palm sander), I generally don't recommend
this for a newbie but I'm keeping a close eye and by the time he has it done he
should be well experienced at how to properly handle a DA. We use about 5 sheets of
paper an evening and then stop ...... I want him to have time to let the lesson soak in.
( I've already strip the hood several months ago. )
We will be replacing the bumpers with fiberglass units and plan to mold them in.
We're also brainstorming over a possible custom headlamp set up.
Something I've never seen before ........ but yet subtle.
I knew the car had had some left front end damage in the past.
We're uncovering it now....bubba used a crap load of body filler to make up for
some piss-poor fiberglass work. ( More on that later )
I hope to have some good how-to threads come from this project.
These shots were made today.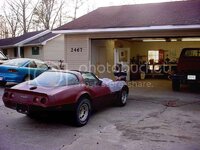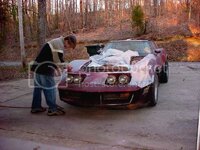 Last edited: