Joined

Mar 25, 2008
Messages

2,731
Location
Most of you guys know that I wanted to stay stock as much as possible...well on the outside anyway:nuts: So I guess I am now officially modded:yahoo:
Here's the build which got me 462hp/532tq with my stock exhaust manifolds on the dyno using my rebuilt Qjet-runnin pig rich on with an ign. that craps out at 5100 or so.
Update Oct. 2008. Added a DUI Street Strip ignition..now she don't crap out at 5100 with the points ign.
10.7 static CR. 93 octane, 34degress timing. M20 with 3:36 rear.
My block bored 30 over
Scat crank forged
Scat Rods forged
SRP Pistons forged
Speed Pro Rings
Coated ACL-H main and rod bearings
Coated Duro Bond Cam Bearings
Brass Feeze plugs
Roller Cam .569/.569 280/292 224/
[email protected]
Roller Cam Button
Morel Hyd Roller Lifters
Dual Roller timing set
Hays Billet Flywheel
Melling Oil Pump
Balanced to within a nats ass
Heads had porting work
Manley Valves, Keepers, Retainers
Bronze valve guides
PBM Viton valve seals
Comp 1 piece push rods
Comp Pro Magnum Roller Rocker Arms
Dual springs
Melling Rocker Studs
ARP Head Bolts
Stock Intake manifold
Professional Products Harmonic Balancer
And many other new parts that go along with a rebuild.
See, it looks stock:nuts: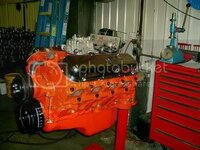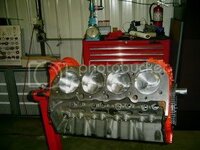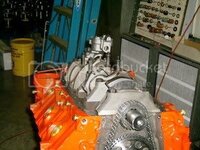 Last edited: