Joined

Apr 10, 2008
Messages

231
I went with a different approach with my 80 as the flares can be removed by un screwing them. I'm now at the point where I need to do a bit of fill in some of the low spots then seal before paint.
The flares where cut from Vanacors full fiberglass quarters so there are still areas with a lot of black gelcoat. Areas I had to rework either have some matt or have been filled with a two part mix that contains fiberglass strands.
As these parts are removable I would like to seal and paint at home. What should be used to seal the glass (primer, sealer etc...) and what type of paint should I use? Going to stay with the original dark claret scheme as this fits the era or the car but have considered pulling the metallic out.
I have a compressor and an low pressure gun a friend gave me.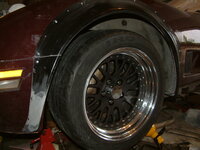 Last edited: