Joined

Apr 25, 2008
Messages

1,519
Location
Since my big truck is in the shop I had the week to finaly play with the Vette.
I picked up a Jeep steering box and started installing it.
I've been looking at pretty much everybody's install and decided to go Norval's way notch the frame, align the box as much as possible with the steering column then sink the assembly into the frame.
Since my welding is crappy and I dont want to learn on a piece as important as the steering assembly I'll just make the parts and tackweld them in place. Later my son who is a certified welder will come over and finish the welds properly.
So here we go.
I started by trying to align the box. I took some 200mph tape and tied the column with the box.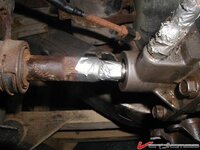 Hey originaly they call it a rag joint, I call it tape joint. Steering migght be a little soggy with this type of joints. LOL
Then I used a piece of rope and aligned the box from the top.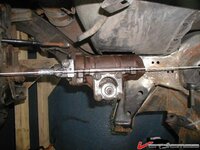 then from the side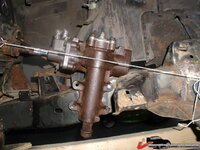 I found out that if I wanted to align it straight, the bottom of the box was hitting the top of the frame so I decided to make a notch to clear it.
I didnt want the box to touch the frame.
took a deep breath and riped thru it. First cut.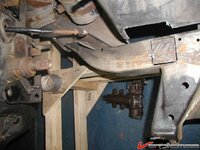 Once the first notch was made I could align the box pretty straight.
I marked it on the frame for reference and started to plan where I was going to cut the side of the frame and size the plate. This is going to be a big hole.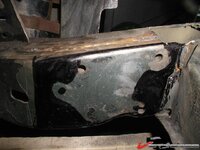 I then made a plate from 1/4 in thick and installed the box on it. Since I wanted it to be big enough and follow the bend of the frame I made two lines with the grinder and cut it about half way deep to be able to bend it. 1/4 in plate wont bend easy. Later the welder will make a pass over and wlll solidify it.
Here I started to make a notch on the plate to clear the pitman arm.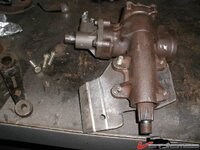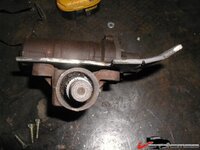 Ok now I was there, I had to make the big hole.
I cut the side of the frame in order to install the new plate .
The hole for cylinder support access was already blocked when I did my frame gussets.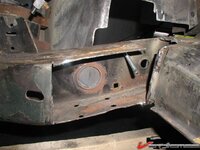 I'll take some more pics later this afternoon.
Last edited: