Joined

Apr 8, 2008
Messages

89
Location
I have had my 81 for a few months now, and I am just getting started on the frame-off rebuild. I'm building with a Pro-Touring influence...basically, I want the car to be daily driveable, very reliable, get decent mileage, and have the ability to be driven anywhere, while still having the power to do well at the dragstrip and the suspension/brakes/tires to hold its own on a road course. I'm not building a racecar, but the goal for the car is about 450RWHP, naturally aspirated. I was originally planning to do an LSx/T56 swap, but due to the cost and the fact that I already have a built LT1 383 (more about that later) I am going to use it. It performs very well in the 97 Camaro SS it is currently powering, and should do even better in the lighter Vette. I'm going to use an earlier iron rear (4.11, using the Posi tuning and rebuild advice from Gary and Stinger) with the original aluminum batwing, and makes several suspension and braking upgrades (still deciding exactly what). Wheels and tires will be 18s or a 17/18 mix. I'm planning to paint it exclusively with Spies-Hecker products, Porsche Guards Red with a black center stripe and do a black leather interior with C5 Sport seats.
Here are a few pics of the Vette, just after purchase.Overall, the body appears to be in pretty decent shape. The front bumper cover is toast, and I plan to replace the hood anyway (L88 style), but the rest should be usable as is. It appears to have been repainted once. I'll be stripping it to the bare fiberglass (SMC).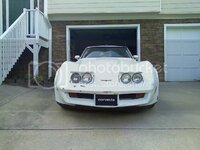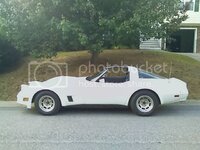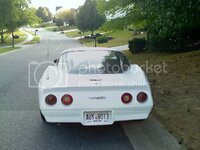 The interior is pretty trashed. The seats are decent, but everything else needs work. The dash is cracked, the carpet was removed by one of the previous owners (due to a t-top leak that he didn't fix),and pretty much everything except the trim around the glass and t-tops will need to be replaced. There is quite a bit of surface rust on the floorpan (yes, its steel on the mid 76-82 models), but the birdcage looks good so no worries.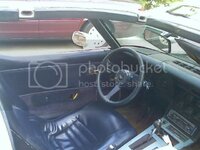 Something I haven't noticed being done here, but that I would like to do with this build thread, is document the cost of everything. This way, not only can a novice see how things are done and in what order, they can also have a more realistic idea of what the whole process is going to cost. I'll try to include all costs of parts (even estimates for ones I already own) and materials. I'll note the cost of tools too, though they won't be included in the total as they are an investment rather than an expense.I'll also subtract out the sale of any parts I won't be reusing. This part of the thread will be updated regularly.
Purchase Price- $3500
Citri-Strip- $20
Razor Blades- $5
_________________________________
Total So Far: $3525