Charter Member, Founder Bird-Run, Cruise-In Bird-R
Joined

Mar 5, 2008
Messages

5,719
Location
I spent the better part of two days working on the wiring of Scotts 71.
One of his decisions was to add the headlight mod sold by Mad Electric.
It's a good mod, as it takes the load from the headlight switch, lowers the voltage drop,increases the headlight brightness, extends the life of the switch, and lowers the risk of fire. How great is that?
I did it for $15.00, wire, and my time. Follow along.
The main purchase was 2 single pole relays made by Hella for driving lamps. Purchased from Summit for $6@.
Next, I removed his old transmission spark control relays.(No longer used)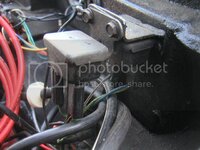 Next , 3 relays were mounted with 1/4 20 bolts and locknuts. The 3rd relay has another function. More about that later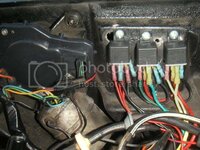 Then I laced them up. Black #16 ground to each coil on 1 side.
Then a #14 from each relay coil, and a #12 from each relay contact on one side were run down to the harness plug.Each pair of wires,yellow and green, represents low and high beams.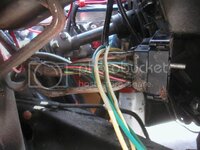 The high and low beam original wires, in this case, tan and geen, were cut 4" from the harness plug, and tied in with insulated butt splices.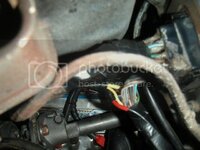 Now to complete the install, a #10 red was laced to the other side of each relays contact set for a feed. It runs around to the horn relay, where we pick up the hot, via a bussman 30 amp auto circuit breaker. Autozone, $3.00.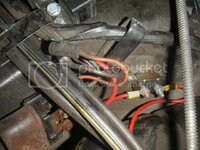 Now being a sparkey, I can lace this up in my head. For those of you who want a schematic, I will draw a sketch and ask TT to autocad it for posting.
Now, when activating the headlights, you are actually activating the corresponding relay.
It takes power directly from the horn relay battery feed, and connects it to the headlights directly. It increases the voltage about 15%.