Joined

Sep 2, 2009
Messages

1,522
Location
So the challenge:
"How to Mount a C5 (or similar double wishbone) rear suspension - and elminate the trailing arms?"
TT has been working on his set up using double wishbones and I'll show some of those in the my next post.
BUT: I'm not looking to build the wishbones and hub carriers as he has done, but understand how to mount C5 Rear Suspension Components to the C3 chassis. This will be a bit of a "think piece" with the aim of geting ready for an eventual build. I haven't ditched my Giovanni - just yet. And I am quite invested in the 4.11 rear end, dual mount spring, etc to just yet move away from my current suspension. BUT, time will tell.
I'd start with the C5 rear suspension components: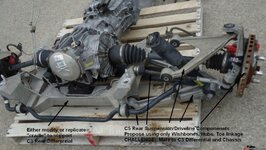 At first look, I think the most useful bits are the Hubs, Wishbones, Toe Adjust struts, and Sway Bar. Maybe useful--the cradle, but I doubt the C5 cradle would accomodate a C3 rear differential. Also, what half shafts to use? Custom, or modify C3/C5? To be determined. Complete rear suspension bits are available for $1000-1500. But how to mount to a C3 frame?
While on holiday (first in several years) I found myself a few miles from the FactoryFive's main facory location. In preparation for a visit - I did some research on their website and found an interesting approach for their Type 65/Daytona Cobra Coupe: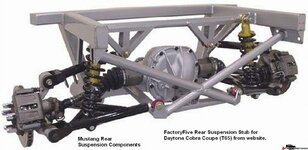 The cross bracing and lower mount for the rear diff would need to include an upper mount for a C3 diff. But the approach looked like it has promice. I'm not interested in using Mustang parts - so I'd stick with C5 and adopt the approach. That got my mental juices flowing and I started messing around with the C3 Frame Diagrams: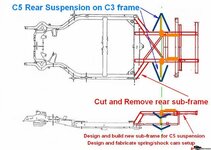 [Unfortunately, my laptop only has "paint-like" capabilities and not my CAD programs. So, please excuse the neccessary clumsliness of the diagrams.]
Then, I rememberd seeing a similar approach on a Tube Chassis - but it is a C4 Suspension - still not the"Holy Grail."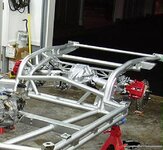 Wait! What if I cut and reused pieces of the original C3 frame?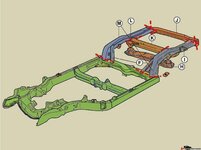 Or, in closeup: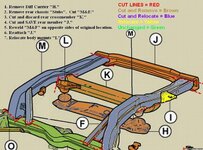 looking at the mirrored positions:

And, in a reassembled diagram - waiting for the key components, additional structural components, and subframe to support a C3 rear Diff and C5 suspension bits: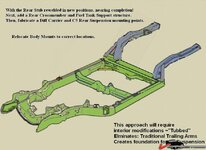 One advantage/disadvantage to this approach is it will require some mods to the interior. The rear "arms" will be substantially closer together, and will require the interior to be "Tubbed," in the lingo of "Pro-Touring." That will offer the opportunity for more Meat on the rims too.
While doing some "research" (surfing), I came across this rear stub on the Spanish "Tramontana:"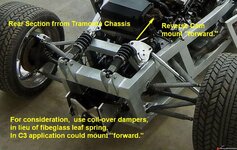 The Coil-Overs could be mounted "awthwarts" or forward. In either case, interior mods to access the adjustability features offered by using them. Getting the Cam designed correctly and sizing the actuator rods will be important too (avoid Euler buckling in the strut.)
Comments? Thoughts? I'd appreciate any feedback.
Is this a path already well trodden? I know TT has built his double wishbone rear suspension components on his C3, but the pictures don't offer enough information to "reverse engineer" - err, copy directly. And, I'm not interested in building the wishbones - but adapring the C5 to the C3!
I'd really, really greatly appreciate any CAD drawings of C5 rear suspension components, C3 Chassis, rear diff etc.
I'd gladly assemble the drawings in SolidWorks or RHINO, based on what you have available.
I need to get back to using those, its been a while.
But it will be a few weeks until I'm back at the other PC.
Cheers - Jim