Joined

Sep 2, 2009
Messages

1,610
Location
Well, It was bound to happen: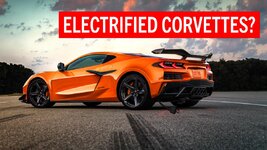 Yeah - That's what I want - a mega $$ PRIUS. I can already hear the belly laughs track side.
Piston-engine goes BRRRAP! Mazda engine goes hmmmmm. E-Vette goes ...........
Let's see the 24 hours of _____________ (you pick: Sebring/Daytona/Thunderhill 25 hr/Le Mans) Hah!
What was it Elon said? Electric cars aren't for everybody... (during a discussion on gasoline costs - still looking for it)
and, importantly, he said; "You have to match the convenience of the gasoline car in order for people to buy an electric car."
More importantly - who asked for this? Customer driven - nope! It took from 1968 the ASTRO II (1968) until 2020 to get a mid engine.
From 2020 - 2022 to get this idea!
What caused the shipboard fire and loss of 1000s of luxury cars to the bottom? EV battery fire.
Just in case you think EVs and Batteries are green - check this out:
https://www.youtube.com/watch?v=RqppRC37OgI&t=37s
https://www.youtube.com/watch?v=RqppRC37OgI&t=37s