So here's the 411 on the FR Manual R&P Setup for C3 Corvettes.
Q: Why did I decide on this package?
A: There are several reasons:
Can't stand the slop somewhat endemic to recirculating ball setups
Don't care for the numbness that is often associated with boosted steering
Not a big deal, but further simplification and reduction of weight by not using a PS pump and all that extra plumbing
The Steeroids package was considered, but reviews of it were pretty mixed.
The FR Manual rack was fairly new and still isn't used by many, but it won some SEMA award so I figured I'd give it a whirl.
Q: How difficult is the installation?
A: Here's what I remember.
Contrary to FR's suggestion, you're really going to want to have the engine out of the car to gain clear access, especially for setting up the steering linkage.
It is a bolt-in, no welding required, but you'll need to cut the universal length shafts to appropriate lengths and fidget with the U-Joints to get a clean installation. This means you're going to want to have a metal cutting saw or a lot of patience with a hack saw. As I recall, the shafts were tempered, so a cold-cut saw is preferred.
The cross member is a direct fit, but in my case at least, required considerable persuading (i.e., hammering) to get into place.
I think there was something about the bolts, but I don't recall so clearly.
You'll obviously have to have it professionally aligned after installation.
It's a full half day installation, with the engine out. Hard to imagine trying with it in.
If you're doing and LS1 conversion (as I was), you'll have to notch and reinforce the rack crossmember to clear the F-Body style oil pan
Q: What do I like about it?
A:
Absolutely zero slop.
Excellent feedback from the road; both in terms of vibration up through the steering column and natural force loading when cornering.
Great natural weighting and tracking when driving at speed.
Q: What do I not like about it?
A:
It is pretty heavy when driving slowly, especially in parking lots where you need to make 90 degree turns at slow speeds. I'm a fairly strong guy, so it's not a big deal, but it would be a struggle for anyone who is on the weaker side. In fact, it'd be sufficiently unpleasant, it could keep them from driving altogether. NOTE: Tire size seem to have a definite impact on this. With my original 255/60x15 it was clearly harder than with my 255/50x17s, which basically ok for me. In a perfect world there would be moderate assistance at slow speeds that tapers off, but I think only fairly modern and expensive cars have this kind of variable assist.
The ratio of 14:1 on the R&P is supposedly about the same in real terms as the 17:1 of the stock steering box. It feels to me about the same, or perhaps a tiny bit wider. I would prefer a quicker ratio, not a lot, but making a typical 90 degree turn on one lane streets requires something close to 180 degrees of rotation. I would prefer something like 120 degrees. However, this changes according to environment. On the freeway and what not, it's great for stability because small inputs only make small changes. On the other hand I could imagine on a tight AutoX, it might be a little annoyingly slow. I've considered experimenting with a slightly smaller steering wheel to get the effect of a quicker ratio, but this will make the steering even heavier.
Here's a pic show the fairly complete installation of the linkage and rack. Notice the rack crossmember isn't notched. Yeah, we figured that out later.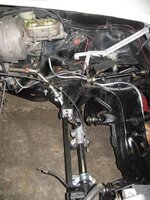 Here's a pic showing the steering linkage in its final glory.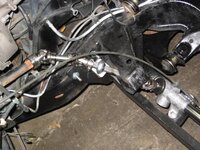 A better pic focusing on the linkage after the engine was put back in.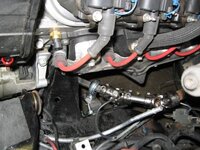 Note the contact.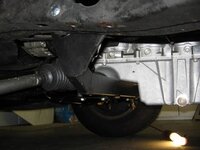 Here's a pic of the notch required to clear the oil pan: