Joined

Jul 16, 2012
Messages

3,292
Location
She's white, kind of dirty, might end up a bit nuts but would you say no?
I didn't. okay, she's 2006 Cadillac CTS 6 speed with 100k miles and a rod-like knock. I have another motor - the one in the Fiat. For a myriad of reasons, I'm going with a different motor in the Fiat... and this came along.... all in, I'll have less then $1,000 in it (including registration and a new battery).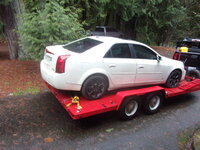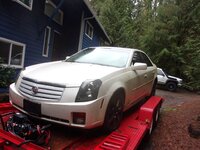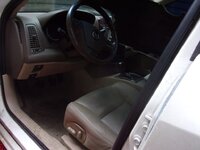 and a sunroof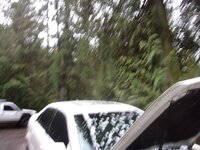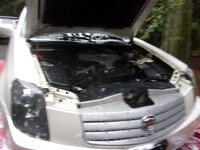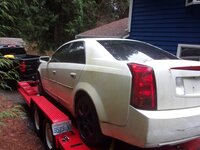 she cleans up well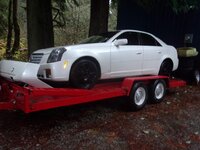 tonight I drove it into the shop... when I bought it, I never heard it run - back story is the guy I bought it from hadn't either when he bought it, got surprised after owning it for 4 years and finally fixing its issue, with the rod knock.... (which might simply be valves hitting the pistons)...
first, they didn't install the radiator correctly (thankfully it didn't break)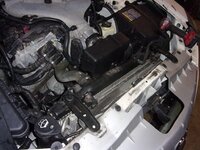 but that's indicative of the car.
So the radio doesn't work
windows don't go down
why did GM put the fuses in front of the rear seat?
codes are for injectors (not a surprise with 4 year old gas) and cam timing
needs a rack (leaking)
but overall, the interior smells smokish (not heavy, and even I, who am almost allergic to it, can handle it). no rips, kind of dirty (needs a shampooing)
outside no major damage, I have another bumper cover (came with) for the rear. Paint is in good shape.
desperately needs tires (and it's an odd 5 bolt - 115 mm, but you can use 114.3 (small Ford) with the right hub adapter)....
which leads me to.. you can swap hubs and get the Camaro bolt pattern along with better (larger) brakes.
That last bit is cool because I have the C5 Corvette front hubs that are a straight bolt on, and I have 4 piston Brembos from a SS Camaro for the rear - all I need is another hub and brake assembly.
which leads me to
This might become my taxi. I have a good friend that I'd loan this to for track days... also use it for autox practice.... and in the end shift it to someone else....
I won't V the car - GM changed almost everything under the car to put the V8 in it (new K member, different rear suspension, stronger diff).... and I already have a beast for days when I need the last, shouted word....
So it's a project but it's likely you'll see it as supporting cast in the future....
thoughts?