<BEGIN_PITCH>Hopefully we get a system here for hosting pictures. Until then these pics are hotlinked from a site my friends and are building as a "car community" site.
http://www.motorgen.com
. You'll recognize a couple names there too. :thumbs: <END_PITCH>
I'll further review and refine the following information, maybe turn it into an actual guide. But here tis for now in it's original form.
Finally, after nearly a year of acquiring parts and researching, the conversion of my 82' to an LS is underway. I'll update this thread as I go and hopefully it'll be useful to anyone else considering this conversion in the future.
Here's the short block, Heads and Trans before loading up.
A pile of miscellaneous parts and accessories.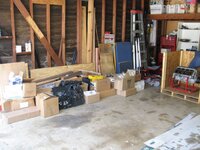 A truck loaded with all the goodies for transport to conversion location.