Joined

Mar 26, 2008
Messages

29
Location
just wanted to say hello from France guys.
I'm building/restoring a 82 coupe (not collector)
I started after I bent a rod a few years ago.
the only part I kept from stock engine is the block. I installed an eagle forged stroker kit w/ 6" h-beam and flat top srp pistons (10.3:1 CR). I decked the block, but it didn't need to be bored so I only honed the cylinders.
the camshaft is an hydro-roller with ZZ383 specs and 1.6 roller rockers.
heads are a set of AFR195 (not the new ones). I polished both chamber and exhaust ports (not sure it was needed).
on top of this, I'm using an old Edelbrock SY1 manifold with a custom top plate to be able to use a crossfire injection. throttle bodies are bored to 2.13" and I have an EBL+PROMinator mod for my truck ecm ('7747).
fuel circuit will use 2 pumps and a fuel swirl pot so I can road race my car without modifying the tank (not that easy with the thick bladder inside).
for tranny, I'm using a rebuilt&upgraded LT1-T56 with an aluminium flywheel, a McLeod disc and an LT4 pressure plate.
for brakes, I'm using stock rotors&calipers (o-ringed). my plan are to upgrade to Wilwood brakes (13" front) later. I have fitted an hydroboost to help.
I have not done much to suspensions. they are rebuilt to FE7 specs with poly bushings (only added a poly smartstrut to the rear). I used a steeroids steering rack. plan to upgrade to coilovers later.
diff is the stock dana 44 with a 3.73 gears set. if I break it, I'll replace it with an iron diff.
I've redone every weld on the frame and added a few gussets.
I don't know what I can add...
maybe a few pictures of my project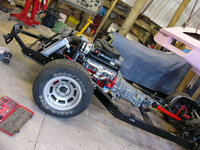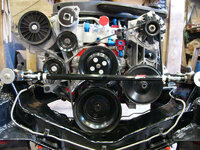 I still have a lot of work before I can even start the engine.
/Vince