Joined

Aug 7, 2008
Messages

409
Location
1981 Big Block for sale PRICE DROP
I've posted about this build on this and other corvette forums over the last few years, there's a lot about the build process, both the mechanical and the body/paint work. The car does need seat covers and carpet, they're okay but could certainly be better.
The Engine machine work done by Dickey Ferry Racing in Macclenny Fl and includes Hypereutectic pistions, forged crankshaft, balanced rotating assembly, ported and flowed heads, 2.25" intake valves added, GM performance intake manifold and HEI ignition, Lunati VooDoo full roller valve train with a Comp Cams Thumper LS6 cam. Engine also includes a modified factory SB serpentine drive belt system. Modified Rochester carburetor by Cliffs High performance.
Exterior is outstanding, no cracks or waves, door gaps are even, fender lines are sharp and consistent, hood is L88 style, and has been modified raising it 2.5". Exhaust is stainless steel and vehicle has Headman ceramic coated headers. Transmission is a modified 2004R, rear end is a 71 iron center section mated to the aluminum "batwing". All suspension bushings have been replaced, including trailing arm bushings, bearings are outstanding. A 9/16 rear stabilizer bar has been added. Brake calipers are SS sleeved, SS braided brake hoses are installed as are Hawk brake pads.
Front fenders have been modified to include fender louvers. Paint is outstanding, car was painted almost two years ago and garaged since then. The bumper covers, doors and all trim/hardware was removed prior to paint. Paint was color sanded, clear was wet sanded and polished. All weather seals have been replaced with high quality silicone pieces. Trim is powder coated. Interior is good, one minor tear on the drivers seat. All accessories, and options work including AC and cruise control.
I'm asking $22K OBO.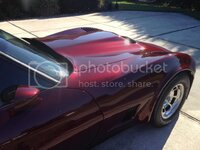 A lot of the build is documented here:
http://s984.photobucket.com/user/damoroso/library/1981 Big Block Corvette?sort=6&page=1
Last edited: