Joined

Sep 2, 2009
Messages

1,689
Location
1963-1982 Corvette Body Lift Harness
New Price $70.00
This can be yours for $30 + shipping
Pics are from catalog – not mine – it is a bit Garage-grungy and I shortened it by about 24 inches to lift in my lowered garage. Can be re-lengthened by removing the stitches. Overall Length of each strap is – still 62 inches – places lift point closer to body (t-top) roof line. Working Load Limit is listed @ 3000 pounds.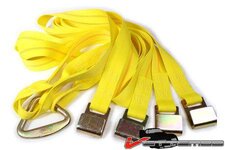 It worked great - and the main body is now mounted - so it is now excess. Reply here – or PM.
PayPal please.
Cheers – Jim
Instructions:
Prepare Body Lift Kit
Remove all components that attach to the body and chassis, such as: Steering column, gas and brake lines, rear exhaust tips, mufflers, bumpers, shifter, clutch linkage, oil pressure lines, seat belt straps, battery cables, gas tank wires, body mount bolts, rocker moldings, and side exhaust.
Lift Body
1. Center lift over shifter hole.
2. Attach long strap hooks just forward of the rear door gap.
3. Attach short straps forward of door on front most portion of metal substructure.
The metal substructure does not run the entire length of the rocker panel. Look behind the fiberglass to be certain the hook is on the metal, not just attached to the fiberglass.
4. Break body loose from frame with a long pry bar. (Rust will prevent the easy removal from the body mounts.) Do not attempt to lift until body is loose. If any resistance is met, STOP and locate the problem.
5. Lift.
6. Once the body is lifted, never get under the suspended body.
7. After raising the body, remove the chassis and lower immediately.
8. Reverse procedure when reassembling vehicle.