Joined

Mar 24, 2008
Messages

89
Ok guy's, now I need some advice!
Now after my restauration (and relocated E-bracket) of the T-arms I need better tires.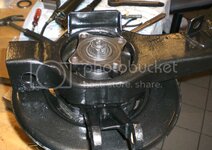 The rims I have now is 16" Boyd's, 7" front and 8" rear.
The grip with my old Nitto 255/50/R16 is none and the tires spins up to 60 mph when WOT.
Minimum width should be 255 and good traction is prioritized.
Is it possible to squize in BFG P295/50R16, or will they rub the fender inside.
This is what I found so far:
http://www.yokohamatire.com/pdf/AO32Rbltn.pdf
http://www.kumhousa.com/tiremodelresults.do?diameter=16&ratio=45&width=265
http://www.bfgoodrichtires.com/specs/radial-t-a/12.html
http://www.bfgoodrichtires.com/specs/g-force-t-a-drag-radial/1161.html
Other suggestions are welcome.......