Joined

Apr 17, 2009
Messages

391
Location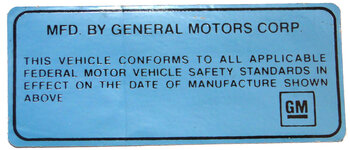 Years ago I could buy these Blue labels directly from GM. As a matter of fact I could buy almost any GM Corvette label or decal direct from GM – until they became licensed – see this link & scroll down to the GM suppliers:
https://shop.docrebuild.com/1962-1963Corvette360HPValveCoverNOSWaterSolubleDecalGM3816291.aspx
Then GMSPO put an end to that. I recently came across one remaining Blue label & wondered what a real one with the clear overlay was worth.
So I emailed ECS Automotive Concepts 753 Goddard Ave. Chesterfield, MO 63005 & asked how much for their repro of this Blue door end label. Only $69.95 and not including shipping of $4.99. So do you bend over & submit? Is that value or a rip off? What do you think?
Methinks he is taking advantage of affluent dopes chasing judging points. If it wasn't for these "elite" judging organizations, these parasites would wither & die. Remember the guy selling microwave tea stained "aged" tank stickers for $190.+ $15 shipping. See this February 2006 link:
http://www.docrebuild.com/curr-evnt/currentevents-89.html
I predicted this "elite" judging phenomena would metastasis like a cancer years ago. How do you keep raking in money from the chum? Keep on raising the pinnacle they must achieve. Keep on creating new thresholds to jump over.
One group went from 1st, 2nd & 3rd Flight Award to Performance Verification Award to the Duntov Mark of Excellence Award to the McLellan Mark of Excellence Award to the Hill Mark of Excellence Award to the Folz Memorial Awards, to the Founders Award, to the Chevrolet Bowtie Award to the Chevrolet Crossed Flags Award to the American Heritage Award to the Sportsman Award to the Judging Recognition Program to the Tabulators Recognition Program to the Judging and Tabulator Recognition Awards to the Concours Judging Awards. Is your head spinning head yet? Mine hurts!
The available herd has thinned out so much that they now judge wheelie bars, blowers sticking through the hood & even flames. What does that tell you? Looks like members here can finally get their recognition.
And remarkably member #1 of the most intense judging group was finally deposed from running the organization. Actually thrown out. Psssssssst it's a big secret and their "moderators" hide this; but it involved lots of unaccounted for money. Where did it go? Look like that once they canned him, he bought an existing internet web store & his son went on to work for the largest importer of china repoop's. Now #1 is a middleman for other vendors repoop: How's that crap working out?
I've said it before: I would not buy any Corvette that was restored in the last 20 years: they are loaded with these short lived china repoop – I don't call them repro's. They are the same crap as in Wallymart, Looows & HomeDumpo. I settled for a "heavy duty tarp" from the latter on Dec 26, 2020 for $78.67 – it crapped out & split this past June 2021. Junk. It did not last a year. Unfortunately I could not locate the receipt until after the year "guarantee" expired.
I yield the podium.
PS I know a dymo tape is used to transfer a VIN & date to the Blue label