The Artist formerly known as Turbo84
Joined

Mar 30, 2008
Messages

2,942
Cleaning out the garage and have a set of caliper brackets that I bought several years ago for my street rod. These brackets adapt C3 calipers to Chevy 12 bolt rear ends (using Corvette rotors). I'll confess I'm not a live axle expert to know if the backplate pattern is the same for 12 bolt and 10 bolt rear axles, too. These were just bolted to the axle for a couple years while the vehicle was being built (no miles), but I later pulled the axle out and put a C4 suspension under it instead.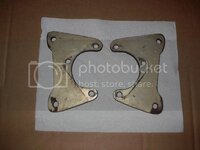 They're 3/8" thick, and threaded in the two caliper attachment points.
I'm asking $20 plus shipping (these should fit in one of the $4.95 boxes at the Post Office) before I advertise these later on another site for $25 plus shipping.
Thanks,
Mike