Joined

Mar 5, 2008
Messages

7,572
Here at VetteMOD you don't have to use an external picture hosting service like photobucket or tinypic. You can upload your picture right here on VM and post it with the supplied code.
Here's how you post a pic, refer to the picture below for details
A)
On the screen navigate to the menu up top and click on the Image Hosting button, a drop down menu will appear with some options to choose. To post a pic you obviously need to upload it first. So, click upload a pic.
You will be taken to a picture upload screen (don't mind the # of upload slots you see here, you won't have as many). Maximum picture sizes and upload amount details are displayed on the left.
B)
Click the Browse buttons (it says "bladeren" in the pic, that's because my browser uses Dutch language for buttons, it means "browse") and a windows explorer screen will appear. Navigate to the pic you want to upload, double click and the actual local file location will appear (usually c:\......). You can upload several pics at the same time (as many as the # of slots available to you). So, if you want to upload more than one, click the browse button in the next slot and navigate to the appropriate picture.
When done, click "Host it". Upload will start and won't be finished until you get a completion screen and are taken to your own picture gallery after. If an error occurs it's usually related to file sizes. For this, check the picture size.
C)
If you want to resize your picture quickly, download the "ImageResizePowerToy". It's a Microsoft Windows Explorer plugin. After install you can right click any picture and select "resize" from the menu. After resizing the resized picture will be available in the same directory with a similar name and an added tag (like imagename(large).jpg). After resizing the pic it should now be ready for upload.
D)
Your gallery will list your pictures as well as 3 sets of code (the set private and delete buttons are self explanatory).
The BBCode is what you normally use to show your picture full size. Don't be afraid to post full size pictures. The VetteMOD software automatically resizes large pictures, where posted these can then be clicked to blow up again.
The BBCode with URL posts a click-able thumbnail that opens the full size in a new screen. This is handy when you're posting the picture somewhere else and don't want to post a large picture (or to have people click your pic and take them to VetteMOD
).
The last is the HTML code. People that know what to do with that probably won't need this tutorial :idea: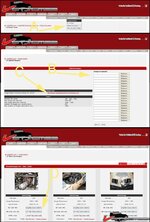 Hope this helps with pic posting.
Marck